A Retreat-Style Setting
Welcomes You Home
Welcome to Aztec Springs Apartments
Welcome to Aztec Springs Apartments in Mesa, AZ, where comfortable living and modern convenience is top priority.

This lovely community is centrally located in Mesa to provide easy access to both work and play throughout the city and surrounding area. Each exquisite home offers modern fixtures and fine finishes to fit every individual lifestyle, while still accommodating the ease of adding your own personal touches throughout your new home. You'll find a wonderful array of on-site amenities, including smart apartment features, three sparkling pools and heated spas, and elevated 9 ft ceilings.

At Aztec Springs Apartments, we offer a variety of one, two, and three-bedroom floor plans to fit your unique desires and needs. Each home offers fine detail and distinguished style to complement each floor plan offering open concept living, outlined with modern fixtures and plenty of storage you'll fully appreciate. Within each home, you'll enjoy high-efficiency appliances, wood grained flooring in the kitchen and dining space, as well as painted accent walls. Covered parking and detached private garages are available for those who wish to add to their list of needs upon move in. Large walk-in closets are an excellent touch, along with beautiful balconies and patios for entertaining close friends and family.

Commuting is short and stress-free with easy access to Red Mountain and Superstition Freeways as well as East Main Street for your drive into work. Additionally, these homes are close to a number of grocery stores and shopping centers to eat, shop and enjoy the city life we know you adore. Take a few moments to look through a large gallery of community photos and see what sets this neighborhood apart from all the rest.

If you've been looking for apartments near Mesa, AZ you won't want to miss Aztec Springs Apartments! Get in touch with a member of our staff today to learn more about how life in our community can be a reality for you.

Aztec Springs Apartments Is Your Home.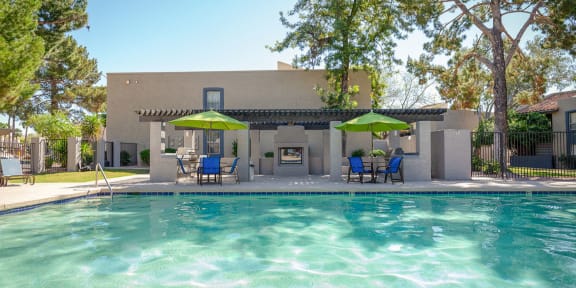 UNBEATABLE AMENITIES AT IMPRESSIVE APARTMENTS MESA, ARIZONA
First-class amenities are top of mind at these gorgeous apartments Mesa, Arizona. Each home provides an open-concept floor plan, integrating space and instilling comfort for every resident. Stainless steel sinks and spacious countertops are excellent for weeknight meal prep, as well as stunning top of the line wood grain flooring and lush carpeting throughout. Modern light fixtures and accessories are a welcome staple, along with a private patio or balcony excellent for a bit of relaxation or weekend entertaining.
Lush landscaping and dazzling palm trees give this exceptional residential community the eye-catching attention it deserves. Visit our first-class fitness center, enjoy the fully equipped business center for work and study, or indulge in some much-needed leisure time at the sun-drenched pool and spa. To learn more about what other exceptional amenities these apartments Mesa, Arizona have to offer, please visit us for a personalized tour of the stunning grounds. We look forward to seeing you!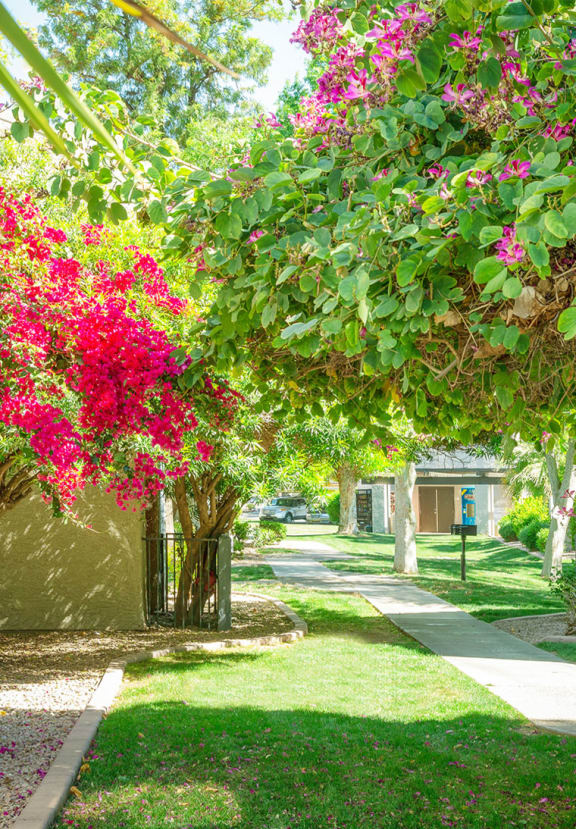 LIVING AT AZTEC SPRINGS
At Aztec Springs, we are close to work, play and exciting outdoor life only a short drive away from beautiful Phoenix! There is an abundance of entertainment and dining options close by, optimizing a limitless list of things to do, divulge in and see. With easy access to Red Mountain and Superstition Freeways, commuting to and from work has never been easier. Find some time to visit Canyon Lake or Red Mountain Park for a fun-filled afternoon in the beautiful outdoors that you'll greatly enjoy.
Superstition Springs Mall is only a short distance away offering trendy shops and boutiques. Looking to stay on property? Relax with friends and escape the desert heat at our sparkling pool and spa. Visit the well-equipped gym and athletic center for a morning workout. Whether you choose to enjoy the bustling city, or spend a low-key afternoon at home, these fantastic Mesa, Arizona apartments offer easy access to an array of activities, while keeping commuting short and stress free.